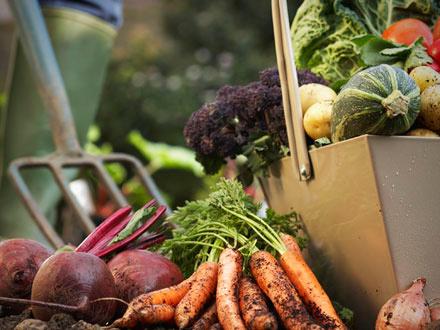 Basic Gardening
The excitement and anticipation of your first vegetable garden can be thrilling. You feel all the emotions of connection with the earth, self sufficiency and accomplishment as you buy your plants at the garden center or browse catalogs for interesting veggie varieties. The feelings of finally planting your produce in the ground, and those first days of watering and maintenance, are unbeatable.
What To Expect
Why do so many novice gardeners choose not to garden the following year? One of the main reasons they give for not returning to the dirt year after year is "lack of success". It's true: First-time gardeners can sometimes let their enthusiasm get the best of them, and many bite off way more than they can chew: Many first-time gardeners make the mistake of planning an area that's way too large to maintain. Or some choose exotic, high-maintenance plants with special needs that quickly overwhelm the novice with disappointing results. Planning is the key, of course, but so is recognizing limitations and easing in to gardening; don't be afraid to start small – in size and plant variety. Having rousing success with a not-so-big garden as your first attempt will build your confidence, making it easier for you to flex your gardening muscles and expand into larger plots and more vegetable varieties the following year.
Planning A Garden
In vegetable gardening, there are many factors to take into account, such as space, soil content, sun positions, and time availability to maintain your garden. Plants need watering and weeding, fencing and staking. You have to watch for signs of disease or damage, and, come harvest time, you have to pick the yield when ripe to ensure continuous production. For first-timers, an area of about 6 feet by 8 feet is a good start and manageable plot. Or you might even consider starting a container garden. Many vegetables and herbs are excellent in large pots for your sunny balcony or patio, and can help you with time management. What varieties to choose?
Growing what you enjoy eating will give you the biggest rewards in the garden, no matter how large or small. Following the simple guides above, and mapping out your expectations and limitations, should help you make your first gardening experience a successful one, and have you coming back for more.
- Burpee Home Gardens
TIPS:
Plant zucchinis in a mound, pot or trellis. A trellis keeps vines and vegetables off the ground, making them more disease and insect resistant and easier to harvest.
Plant radishes around your cucumbers to fight off cucumber beetles from ruining your vegetables.
Pros suggest lettuces as a good ease-into-gardening plant for newcomers to the garden. They are easy to plant, grow and maintain, their sun and soil needs are moderate, and the payoff is rewarding and tasty.