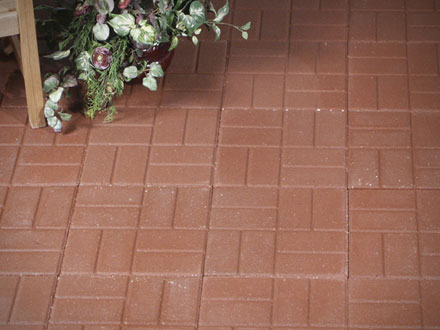 Installing Brick Patio
Tools
• Shovel
• Compactor
• 1 Inch Diameter Pipe
• 2x4 board
• Stake
• String

Materials
• Patio Blocks
• Paver Blocks
• Landscaping Fabric


Follow these four steps to install brick patio to enhance the look of your backyard
Step 1: Stake out & remove sod
Begin by staking out patio area, making sure area is 6" larger on all sides than actual finished size. Remove sod. Lay landscape fabric and create a base by adding 4" of paver base and compact. This will add durability and stability.

Step 2: Screed Sand
Lay a 1" diameter pipe on base. Pour 1" of sand over compacted base. Screed the sand by dragging a 2"x4" board over pipe.

Step 3: Lay out patio blocks
Begin laying the patio blocks in the corner. A paver edger is recommended. Some of the blocks may require cutting and can be cut using a circular saw with a masonry blade or paver splitter (179-9609) available at your local Menards®.

Step 4: Spread sand into joints
Fill joints by sweeping additional play sand over the patio. Sweep remaining sand from the top of your project. You can substitute paver locking sand in place of play sand to inhibit weed growth.