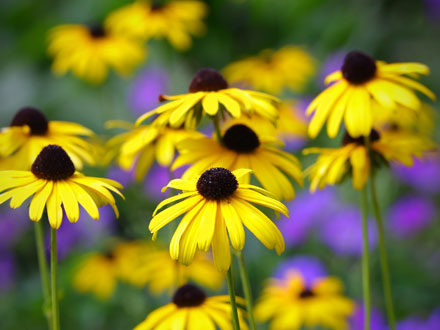 Adding Summer Color to your Garden
Summer is the perfect time to gather friends and family together for a backyard bar-b-que and a game of horseshoes. Now if there was just something you could do about the hole in the garden where the dog buried his bone, the kids trampled the petunias, or that great spring plant that suddenly gave up its will to live. Or perhaps you would like to freshen up the container combinations by your front entryway. If you are like many people you assume that since the heat of summer has settled in you will just have to live with what you have.
What you might not realize is that with careful plant selection it is not only possible to fill in those holes with a plant, it is possible to have a burst of eye-catching, summer color. Here are some things to consider when adding plant material to your garden in the summer:
First, choose plants that have natural heat tolerance. Plants that like the heat will have a better chance of doing well.
Second, consider buying a larger sized plant. Larger plants have a bigger root system which will help your plant take up enough water to deal with the high temperatures. Larger plants will also look more in scale with surrounding plants if you are filling in a hole in the landscape.
Third, you will need to take some extra care for the first couple of weeks to keep the plants well watered as they get established in their new home.
So which plants should you have on your shopping list? Angelonia is an upright, flowering plant that loves the heat. Lean close on a warm sunny day and catch a whiff of concord grapes from the scented foliage. This South American native will take dry conditions once it is established and at 2 to 3 feet tall is a great plant for flowering height.
The Salvia plants have fantastic heat tolerance. Salvia has a huge range (900 different species!) of plants to consider. Flower colors range from blue through pink to orange and red or plants with no flowers at all. The foliage can be green but is also often silvery blue in color. You can find a plant under a foot or over 3 feet tall in annual, perennial or shrub form. The options are almost endless.
Cuphea are generally native to Central and South America and range in type from annuals, to perennials to shrubs. Flowers are generally white, pink, yellow or red and the plants tend to be lower growing. You might want to check out the variety 'Tiny Mice,' the flowers look like little mouse faces. Point that out to a little boy and watch his eyes light up!
You might also want to consider a couple of great American native plants. Purple Coneflowers, also known as Echinacea (yes, it's a flower too!), and Black-Eyed Susans (Rudbeckia) are both heat and drought tolerant and are perfect for an informal garden. The bright yellow, daisy like flowers of Black-Eyed Susan, are cheerful and eye catching. The plants come in both annual and perennial forms. 'Goldsturm' is an excellent compact, perennial form 20-24" tall.
There has been a recent explosion of new colors of Purple Coneflowers on the market. Traditionally available in lavender-pink and white the newer Purple Coneflowers come in reds, oranges, and yellows, making the name a bit obsolete. Quantities are currently limited on these new varieties but should become more available in coming seasons.
Some other great summer plants to consider include Scaevola, Coleus which has spectacular, variably colored foliage, Elephant Ears (Colocasia), 'Sunbini' Sanvitalia and 'Superbena' Verbena.
It is possible to add growing color to your garden every season of the year, you simply have to choose the right plants to use for each season.
- Proven Winners
TIP: Plant Goldenrod in tough to grow areas, most types do well in poor soil.