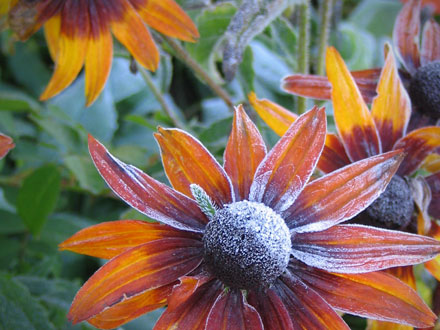 Winter is right around the corner, meaning it's time to winterize your plants. By taking some extra steps to protect your flowers and shrubs, you are ensuring a successful spring garden to grow. This isn't a daunting task as long as you plan your time accordingly and follow these simple steps.
Step 1. Mow and Rake Your Lawn
Keep mowing your lawn until the first frost. After each mow, rake up as many lawn clippings as you can. Also, rake up any fallen leaves. Leaves may contain diseases or insects that could potentially demolish your entire garden so it's best to set them in a compost bin (266-1628). CLICK HERE to learn how to build a composting bin.
Step 2. Bring Small Plants Inside
If you want to keep small plants and herbs alive, bring them inside. Tropical plants and tender perennials are not strong enough to survive the winter winds so they must be moved inside when the temperature goes below 45° F. In the spring, they can be transferred outside again. After you move plants inside, put them near a window and water them every day. CLICK HERE to learn more about overwintering indoor plants.
Step 3. Remove All Weeds, Debris and Diseased Plants
If you have weeds in your lawn, now is a great time to remove them. If you remove the weeds in the fall, there should be fewer to deal with in the spring. If you choose to use a weed killer rather than pull them out, be careful not to spray your desirable plantings. Weed killers are herbicides and will harm, or kill, any type of foliage.
Step 4. Layer Soil
Start to prepare your soil during the summer and apply the soil before the cold temperature set in. To create a sustainable layer of soil, mix Schultz Moisture Plus Potting Soil (266-7650) with mulch. Choose, or create, organic mulch composed of dried foliage, pine needles, straw and shredded leaves. Top your flower beds with a 3 to 4 inch layer of mulch. Try not to compress the soil because you can suffocate the roots of the active plants, killing your chances of growing a beautiful spring garden.
Step 5. Prune Diseased Shrubbery
Many Shrubs should be pruned in the fall to encourage new growth in the spring. However, your shrubs bloom in the spring, do not prune them back because these shrubs produce blooms on old wood. Lilacs are a good example of shrubs that should not be pruned in the fall. CLICK HERE to learn to prune shrubs.
Step 6. Water Your Plants
Continue with your normal watering routing right up until the first frost. Your plants will continue to develop root growth heading into winter, so be sure to water heavily in the fall. Allow the hose to lie at the base on the shrub with a low flow for 15-30 minutes each time so the water can deeply soak into the ground.
Step 7. Trim Perennial Plants
As plants begin to go dormant in the fall, feel free to cut and transplant your perennial plants. You should trim any healthy perennials down so they are roughly 2 to 3 inches above the ground. If your plants are not flowering, or displaying noticeable bare spots, you must divide them. Trimming and dividing perennials keeps plants healthy and makes them less susceptible to disease which can spread throughout your garden, contaminating all your beautiful hard work. CLICK HERE to learn more about dividing perennials.
Step 8. Clean and Organize Garden Tools
The best time to clean and organize your gardening tools is now. As you organize your tools, look for broken or cracked handles, bent blades, etc. Now is a good time to get rid of and replace broken tools. Start your next gardening season off right by doing the following:
Clean your tools by soaking them in warm, soapy water.
Wipe your metal tools and surfaces with a vegetable oil soaked cloth.
Remove rust from any tool by rubbing it with fine sandpaper (562-2830).
Drain, coil and store your hose before snow falls.
Store your tools in a cool, dry spot that is out of reach of children
Step 9. Fertilize Your Lawn
Begin to fertilize your lawn when the temperature begins to drop. If you live in a cooler area, start fertilizing your lawn in late August or early September. However, if you live in a milder climate where grass experiences longer and hotter summers, wait until mid-fall to begin fertilizing. Menards® Premium Lawn Food (260-1595) and Menards® Premium Lawn Food with Weed Control (260-1629) are formulated to promote root growth and strengthen your grass plants. By developing more root growth, your grass will be healthier and stronger in the spring.
Step 10. Plant Fall Bulbs
You should begin planting your fall bulbs when the average night temperature is between 40° and 50° F. Be sure that you plant your bulbs before the first frost. If you purchase your bulbs and cannot plant them right away, store them in a cool, dry place until you do plant them. CLICK HERE for more information about planting bulbs.
Did You Know? An old English tradition is to plant large patches of thyme as playgrounds for faeries. – Burpee Home Gardens