O Christmas Tree! Choosing and Trimming the Perfect Tree
With the weather beginning to dip down toward winter temperatures and the leaves cluttering the yard in piles of orange and red, one can't help but think of the coming Christmas season. The first snow, skating on a freshly frozen lake, hats and mittens, a cup of hot chocolate and the sound of a crackling fire in the hearth - each of these may bring a warm memory to mind, but none of them is as much a hallmark to the happy holiday as the Christmas tree. The Christmas tree is a symbol of family traditions, joyful celebration and child-like wonder. Whether you put yours up a few days after Thanksgiving or wait until Christmas Eve, there's nothing quite like having a Christmas tree, decked with all manner of lights, ornaments and garlands, in your home.

Deciding between real and artificial is a good place to start when picking the right tree this year. Some may roll their eyes at the prospect of putting up a fake tree, while others may be pulling their hair out at the thought of a living evergreen in their house, but in fact, there are pros and cons to both that should be considered before making a decision.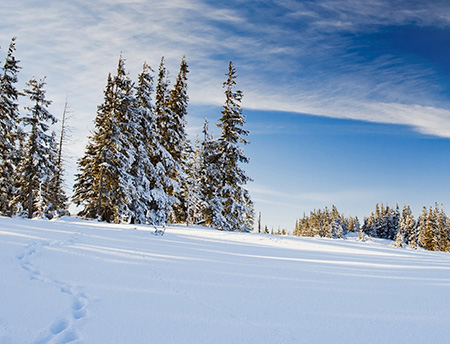 The Genuine Article
There's something oddly exciting about driving to a lot, picking out the perfect pine, tying it to the top of your car and hauling it home to place in front of your living room window. It may sound far from exhilarating to some, but for many, it's a beloved tradition and a great activity for the family to do together. Perhaps the best thing about a real tree is the wonderful smell of evergreen that fills the entire house. The cool, earthiness of fir, spruce or pine often becomes a reminder of past Christmases. It also provides a unique accent for your Christmas parties, getting your guests in the spirit of things the moment they walk in the door. Another benefit of a genuine Christmas tree is its environmental impact. While it's true that choosing a living tree for your home means chopping another one down year after year, real trees are actually much less intrusive on the ecosystem and can easily be recycled to provide much-needed relief for landfills.

There are of course a few disadvantages you'll want to consider before packing up the car and heading to your nearest Menards for a live tree. As a living plant, your tree will require a proper tree stand, frequent watering and, more than likely, a little trimming around the edges. While a Christmas tree's branches certainly are lovely, you'll want to make sure you have a good pair of gloves and a vacuum on hand to handle sap and needles. A real tree can also be a fire hazard if the proper precautions are not taken. When setting up your tree, be sure that it's placed well away from open flames and other potentially dangerous spots like electrical outlets, space heaters and lamps. It's also a good idea to unplug your Christmas lights each night before going to bed to eliminate any risk of fire and to conserve energy. Menards offers several options of timers for your lights that can be set to turn on and off at your convenience. As a final precaution, make sure your smoke detectors are working properly and that the batteries have been changed at least once since last Christmas season.
The Artificial Alternative
Not everyone has that special place in his or her heart for a live evergreen, and many folks today are finding that the alternative can be just as jolly. An artificial tree is easier to manage compared to its living counterpart. With fake needles and a wire frame, there's very little maintenance to worry about. It also saves you the hassle of driving out in the cold to hunt for the right tree, and cleanup at the end of the season is a walk in the park. A fake tree easily stores away in your closet or basement until next year, and because of its convenience and low maintenance, it's a great choice for apartments, offices or even just to save a little cash in the long run. Either way you choose this holiday season - real or artificial - rest assured knowing that both can be found in one convenient location at your local Menards store.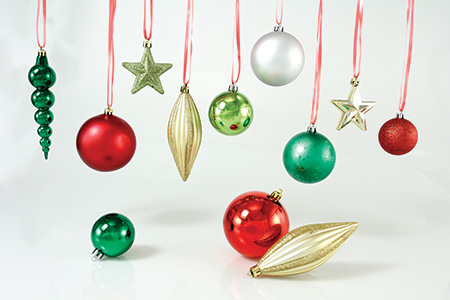 Rockin' Around the Christmas Tree
A first step in setting up your Christmas tree is deciding on a location in your home. A common place to set up is the living room. This allows everyone to enjoy the tree's beauty and creates a centerpiece for the rest of your Christmas decorations. It can also be fun to showcase your tree in front of a large window for the enjoyment of neighbors and passersby and to complement your outdoor Christmas decor.

If you've selected an artificial tree, go ahead and set up in the desired spot following the provided instructions. If your heart is set on a real one, wait just a minute before starting out the door. There are a few things to keep in mind while hunting for that perfect tree. First, it's a good idea to measure the height of your ceiling before you begin. It may be tempting to grab the tallest, healthiest bush on the lot, but selecting a tree that's taller than your ceiling is likely to end in disaster. Also, remember to bring along a good length of rope with you to tie your tree down for the trip home, and it's not a bad idea to have a tarp with you as well to keep needles and branches well protected.

Once you have a tree picked out and you've managed to get it home in one piece, it's time to set up. First, cut an inch or two off the base of the trunk with a hand saw or bow saw. This will create a flush surface and allow for proper watering and positioning in the stand. If your tree is a few inches too tall for your ceiling, cut a little higher on the trunk, but remember not to cut off too much or you'll end up with no room for presents. At this point, using a lopper or shears, you may also need to remove a few renegade branches near the base of your tree in order to make room for the stand. This step may not be necessary for every tree. You should not remove branches that appear out of place or that seem to give your tree an asymmetrical shape. Within the first day, your tree will settle and removing branches too zealously can result in a lopsided finish.

Now, it's time to attach the tree stand. This can be a challenge without a few extra hands, so ask a family member or friend for help. First, set the tree stand on the ground and place the trunk in the opening of the stand. Next, turn the bolts of the stand until they touch the trunk of the tree, but don't tighten them just yet. This is where a partner comes in handy. With one person holding the tree straight up and down, tighten the bolts the rest of the way until the stand is securely fastened to the trunk. Don't be afraid to make minor adjustments or completely reposition the tree if need be. Just be sure that all bolts are properly fastened before you begin decorating. After your tree is set up and positioned in the desired location in your home, use a pitcher to fill the stand with water. Remember to keep a close eye on water levels over the next few days as you may need to water more than once.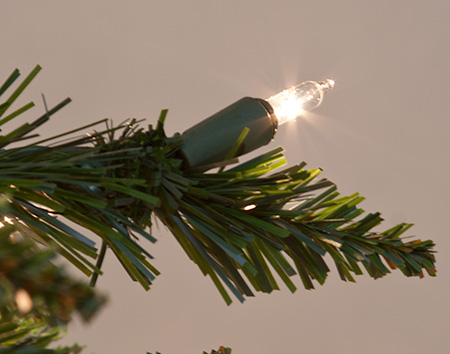 Making Those Lovely Branches Even Lovelier
Decorating your tree can be one of the most memorable activities during the holiday season, and there are lots of options to choose from to create the perfect look for your Christmas tree. First, decide when and how you're going to decorate. Here's a tip: make an event out of it. Put together a few yummy hors d'oeuvres and snacks, get the whole family together and, as you decorate, talk about some of the memories from the Christmases you've shared. Also before you begin, make sure you have enough decorations to cover your tree. First, choose the style of lights. Menards carries a full line of white and multi-colored lights as well as various types such as incandescent, mini, LED, icicle, rope lights and more. If you're using old lights, make sure you test them before starting. Menards also carries replacement bulbs if needed. When wrapping your tree with lights, it's important not to be stingy. We recommend a strand of 100 lights for every vertical foot. Having enough lights gives your tree depth and provides a good backdrop for your other decorations. Start at the bottom and work your way up. You can twist lights around each branch or simply drape them as you go.

Next, it's time to add garlands. These can range from simple to elegant and come in a variety of styles, from ribbons to beads. It's a good idea to have a combination of both simple and elegant on your tree to avoid an overly gaudy look. Start at the top and work your way down, adding more and more garland as you go. Beaded garlands drape well while ribbons look best loosely wrapped from branch to branch.

Finally, you're ready to hang the ornaments. If you have homemade ones or meaningful ornaments from Christmases past, be sure to hang those in plain view. There is a wide variety of ornament styles and sizes to choose from. A combination of simple bulbs, elegant icicles and extravagant figurines is a good recipe to follow. There are also a number of themed ornaments available at Menards to satisfy all kinds of tastes. When hanging ornaments on your tree, the best method is simply to space them out consistently. Special ornaments and larger ornaments should go on first, spread out evenly. Then, smaller ornaments should be hung, filling in the gaps. Be sure that each one is hung on a sturdy branch to avoid accidental breakage.

To finish off, add some tinsel or bows to your tree. These work well to accent your decorations and can be lots of fun for children. Have them spaced evenly around the tree like your ornaments, and don't be afraid to have some fun with it. Also, consider adding some kind of tree topper like an angel, a star or a bow. This provides your tree with a great finishing touch and can help add direction and dimension to your decorations. Finally, place a tree skirt around the base. Not only will this cover the tree stand and provide a beautiful foundation for your tree, but it also protects your flooring or carpeting from needles and makes clean-up much easier at the end of the season.

Whatever your plans are for decorating the tree this year and however you may celebrate the Christmas season, enjoy your holiday with comfort and joy knowing that Menards has everything you need to make it special. Trees, ornaments, lights, decorations and goodies - they're all found at your one-stop-shop Menards store or on Menards.com.