Deck the Halls! Interior Decorating Ideas for Christmas
The days are growing colder and the days are getting shorter. That can only mean one thing. It won't be long before Christmas is here. Welcome in the most wonderful time of the year by decorating the rooms of your home. There are many ways to capture the warmth, joy and wonder of the holidays. Whether it's bringing out the traditional Christmas village or starting a brand new tradition by adding glitz with a wreath, Menards has everything you need to turn your home into a magical wonderland.
The Christmas Tree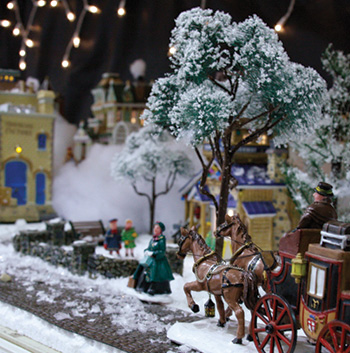 During Christmas, no home is complete without a Christmas tree. Whether it is a fresh cut tree or an artificial tree, the Christmas tree has been the centerpiece of Yuletide celebrations for years. There are many ways to trim your beautiful tree. Use ornaments, garland, lights, and tree skirts to create a specific color scheme that can be used throughout your room or home. If you would like a traditional look, use classic colors such as red, white and gold; for a more unique look try shades of turquoise or purple. You can also create decorations using dried fruit for ornaments, candy canes and popcorn garlands for a simple natural look. There are also many unique tree toppers that will complete your tree. Choose from angels, Santas, stars and more.

Before you can start decorating your tree, make sure it is placed in an open area away from heat sources and exits. Also make sure that there are enough outlets nearby. NEVER overload your outlets and use power strips and surge protectors if you need more outlets. Use a Christmas tree stand to make sure your tree is upright at all times.
Christmas Villages
Another cherished holiday tradition, is setting up the Christmas village. Christmas villages were initially created during the 1920s and were placed underneath the tree alongside a nativity scene. Christmas village buildings are a great choice for collectors and with many unique options, it's fun to create a miniature community in your home. Before you set up your Christmas village, make sure you have enough space for your buildings and proper access to electrical outlets. There are a variety of places where you can set up your village such as underneath the Christmas tree, on shelves or on top of furniture such as tables, coffee tables or pianos. If you do choose to place your Christmas village on the surface of your furniture, protect the furniture piece's finish from scratching by placing a piece of foam insulation board beneath your buildings. You can also use stacked foam insulation board and a piece of white felt to create different landscapes for your village. For an added touch you can use table mirrors or cardboard wrapped tightly in aluminum foil to create lakes and ponds for your village.

After aligning your buildings, accessorize your villages with miniature figurines, trees and snow fluff. You can even create your trees and shrubbery by using twigs and plants. Menards also offers special limited edition buildings that feature authentic signage and incredible detail. Some of these buildings include: the Mastercraft® door factory, the Quaker State® gas station and of course, the Menards® store. For a more realistic or whimsical touch, use speakers to play Christmas music or a track of "village" sounds.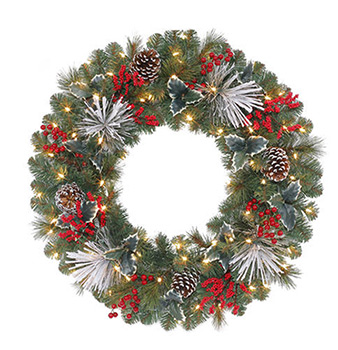 Train Sets
Whether it's running through your Christmas village or around your Christmas tree, train sets have always been a special part of Christmas. There are many different types of trains available from the classic Lionel® steam cars to trains that are themed around classic movies such as A Christmas Story and The Wizard of Oz with artistically designed cars featuring memorable movie scenes.

When setting up your train set, make sure that your train and its tracks are positioned on a flat level surface so the train can move across the tracks smoothly. Make sure that they are placed where no one can trip over the tracks or cars. If placed beneath the tree, make sure that the tree skirt can not get caught in the tracks or the wheels of the train.
Wreaths
A subtle but elegant way to add a bit of holiday cheer to your home is with a wreath. Wreaths are great options for both indoor and outdoor decor. They can easily be hung without damaging your walls by using removable adhesive wall hooks or over-the-door hooks. They are available in a variety of styles and colors and can be further personalized by adding Christmas lights, ornaments and pinecones. You can even add a bit of glitz to your wreath by spraying it with glitter paint.

The holidays are the perfect time to let your creativity flourish and transform your home with color and light. Menards has everything you need to make your decorating visions come to life. There are many different ways for you to decorate your rooms and at Menards you'll find the perfect way to deck your halls!