Our Finest Gifts We Bring: Homemade Gifts for Everyone
You don't have to spend a fortune to get your loved one the perfect gift. Homemade Christmas gifts are a great way to add a personal touch to your holiday celebrations. Whether the gift is for a family member or a friend they are sure to enjoy the thought and time you put into crafting a new treasure just for them. Many homemade presents do not require a lot of intricate steps or money. Some simple two-step projects are as easy as layering the dry ingredients of their favorite cake, bar or cookie mix into a canning jar.
Choosing the Perfect Gift
A benefit to homemade gifts is that they can be tailor-made for your loved one. Be sure to take their hobbies and interests into consideration when you choose a gift for them. You can make something fun for children, something stylish for the lady of the house or something fun and wintery to decorate a close friend's home. There are many other questions that could be considered when choosing homemade gifts for your loved ones; it is just a matter of taking their tastes and interests into account. This article will give you a few gift ideas that are simple and fun to make.
Chalkboard Placemats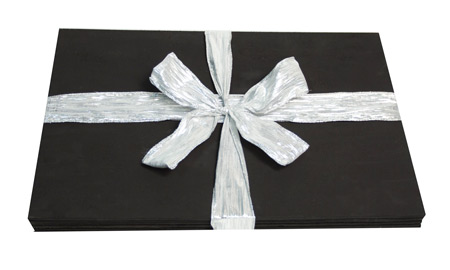 You can make mealtimes fun with these creative chalkboard placements. Perfect for families with small children, the special kids in your life will love drawing on these placements and their parents will love how easy and clean they are. Proudly display their lovely artwork and then simply erase the board and start a brand new work of art. These placemats will give a solid surface for the kids to draw on with chalk and will also provide a place for table settings when dinner time rolls around. They can also be used by older children when doing math homework; they can simply figure out their problems and erase as many times as they like.
Materials:
•    1 can of Rust-Oleum Specialty Black Chalkboard Paint
•    Primer (if desired)
•    1 - 1/4" x 2' x 4' ACX Handi-Panel
•    1 roll of non-slip gripping
•    1 hot glue gun and mini hot glue sticks
•     A table saw or means of cutting the panel into 4 pieces
Instructions:
1. Cut the Handi-Panel into 4 pieces measuring 12" x 18" with a table saw.
2. Sand the edges of the Handi-Panel pieces.
3. For a smoother finish primer can be used and allowed to dry before spraying the coats of chalkboard paint.
4. Coat the front and edges of each placemat with 3 coats of chalkboard paint.
5. Allow at least 24 hours to dry.
6. Cut the non-slip gripping in small squares to hot glue to the back corners of each placemat.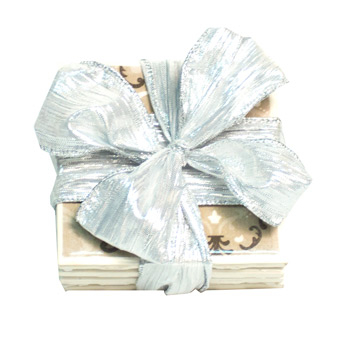 Ceramic Tile Coasters
This simple but elegant set of coasters is the perfect gift for a friend or co-worker. These lovely ceramic tile coasters are the perfect touch for a living room or a den and can be personalized for your loved one. You can customize them however you like and use scrapbook paper, wallpaper or photos. Photograph coasters make a great gift for children to give to their parents and grandparents, or you can use scrapbook paper or wallpaper to find the perfect print and colors to match a friend's home.
Materials:
•    White glue that will dry clear
•    1 can of Rust-Oleum Triple Thick Clear Spray Glaze
•    4 - 4" x 4" white ceramic tiles
•    1 foam paint brush
•    A roll of non-slip gripping
•    1 hot glue gun and mini hot glue sticks
•    Printed paper or photographs to glue to tile
Instructions:
1. Cut the paper or photographs to 4" x 4" pieces.
2. Brush glue on to the front of the tile and place the paper onto the tile.
3. Brush another coat of glue over the top of the paper. Allow to dry.
4. Spray the glaze over the top and edges of the tile. Use several coats with drying time in- between coats to ensure a glossy, glass-like finish.
5. Once dry cut out four 4"x 4" squares of the non-slip gripping and use the hot glue gun to glue the squares to the backs of the tiles.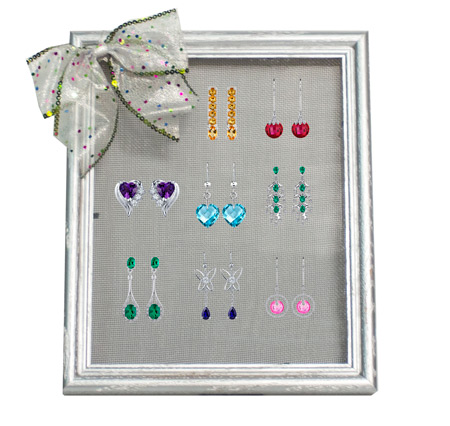 Earring Holder
This creative, decorative and fun way to organize jewelry will surely bring a smile to your loved one's face. It is a great idea for teenagers or college students who may be short on space. Organization to a jewelry area not only brings order to normally unorganized and forgotten spaces but it helps with getting ready for work or school and saves time. Simply purchase a picture frame and screening. Spray paint it any color or use multiple colors. You can even spray a coat of glitter spray over it for added flair. As an added surprise you could add a pair of earrings to the gift.
Materials:
•    1 8" x 10" wood picture frame
•    1 can of spray paint
•    1 roll of window screening
•    1 hot glue gun and mini hot glue sticks
Instructions:
1. Spray paint the wooden picture frame in the color of your choice. Make sure you use enough coats to cover the frame. Allow to completely dry.
2. Measure the space on the back of the frame where you will glue the screening and cut the screening to be that size.
3. Hot glue the screening to the back of the picture frame making sure it is tight across all directions.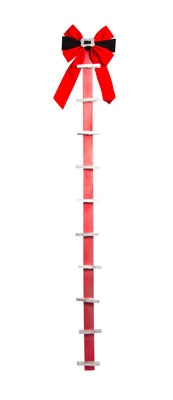 Holiday Card Organizer
Gifts of holiday accents are perfect for Christmas or holiday enthusiasts. With this festive card holder, your friend or family member can proudly display their holiday cards for all to see. This holiday card organizer is the perfect gift for friends, coworkers or your child's teacher.
Materials:
•    1 - 1" x 2" x 4' Select Pine Board
•    1 can of spray paint
•    1 can of glitter spray paint (if desired)
•    1 hot glue gun and mini hot glue sticks
•    10 clothes pins to hold the cards
•    A drill to make a hole for hanging
•    Galvanized wire for hanging
•    Bow for decoration
•    Wire cutters
Instructions:
1. Drill a hole in the top center of the board
2. Start with the solid color of spray paint and use the necessary amount of coats to cover the wood and the clothes pins.
3. If desired, use a couple coats of glitter spray paint over the solid color.
4. Use the hot glue gun to glue the clothes pins onto the painted piece of wood.
5. Cut a small length of wire to use for hanging the organizer and add the bow before hanging it up.
Stylish Accent Rug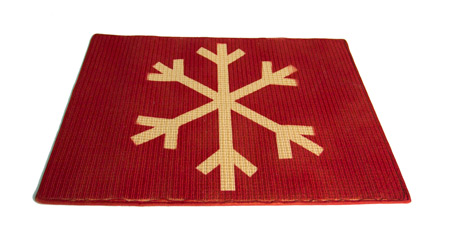 Welcome guests with a unique and stylish accent rug. Give your friend or family member a gift that they can use year-round. This gift can be easily customized to match anyone's interests or decor. It's the perfect gift for a friend or neighbor.
Materials:
•    1 accent rug
•    1 can of spray paint
•    1 roll of masking tape
Instructions:
1. Tape off your design with the masking tape.
2. Spray paint the rest of the rug in a color of your choice.
3. Once the rug is dry remove the masking tape to reveal your design.
These homemade gifts are a great way to show your loved ones how much you care about them. You can create them alone or have fun crafting them with your family. With these easy craft projects, you can create the perfect, customized gift for your friend or family member. Menards is delighted to supply you with the items you need for a happy and memorable holiday season.