It's Beginning to Look a Lot Like Christmas: Holiday Outdoor Decorating Tips
Christmas is a magical time when every house on the street is aglow with Christmas lights and garland among other displays. Outdoor decorations are just one of many aspects that make the holidays so special. Celebrate the fun and joy of the season by decorating your home with a little help from Menards. Whether you prefer traditional decorations or plan to light up the neighborhood; Menards has everything you need to decorate your house and yard, so you can have a safe and stylish holiday season.

Measure Your Home's Exterior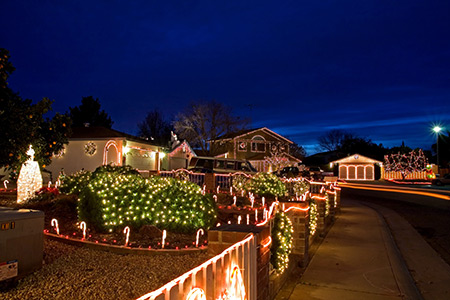 Before you begin to decorate your home's exterior there's a few things you need to know about your house. Locate your outdoor electrical outlets and use a measuring tape to determine the length and the quantity of the lights and extension cords that you will need. You must also make sure that your electrical decorations are plugged into circuits that are protected by ground-fault circuit interrupters (GFCIs) to protect against electrical shock. Portable GFCIs that are approved for outdoor use can be used as a non-permanent solution for your holiday lights and can be easily set up and taken down. Portable GFCIs should be tested each time before they are used to verify their protection. A permanent GFCI can also be installed to your household circuits by a qualified electrician.

Choose Your Lights

After measuring, you are ready to find the decorations and equipment that you need. Make sure that any lights, decorations or equipment that you plan to use are approved for outdoor use. Also, make sure to read the labels on the lights or electrical decorations that you purchase to confirm that they have passed all of the necessary safety tests conducted by an established testing facility. There are many different types of lights that you can choose from. One of the basic types of Christmas lights are incandescent lights, which have been around for years and are available in a variety of colors. Another great option for outdoor Christmas lighting is LED lights. LED lights are energy efficient and long-lasting. These lights will emit a shiny bright hue and, because of the energy savings they provide, you can leave them on for hours. Another way to save (in more ways than one) is to go green this Christmas with solar LED lights! Solar LED light strands are powered by a solar panel, so you don't have to worry about plugging them in or unplugging them later. Icicle lights imitate the natural beauty of snow and ice dripping from the roof, but with the safety and added allure of lights. Another popular choice for outdoor decor is net lights. These are a great option for decorating bushes and shrubs. Simply drape these lights over them and eliminate the hassle of weaving strings of lights in and out of the branches.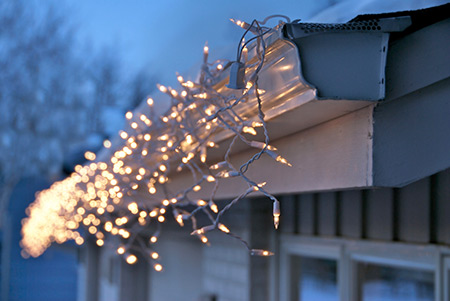 Always Test Your Lights Before Hanging

Whether you have a new or old set of lights, always inspect each string of lights when they are unplugged before using them. If your lights show signs of damage, such as broken or cracked sockets, frayed or bare wires or loose connections, throw them out immediately. If you have any burned-out bulbs on your lights, make sure that you replace them promptly with bulbs that have the same wattage while they are unplugged. Avoid overloading electrical outlets with too many decorations or electrical devices, as they can overheat and cause a fire. Check the manufacturer's guidelines to determine the number of light strings that can be safely plugged together. If you do not have the instructions or if there isn't a number mentioned, a good rule of thumb is to connect no more than three standard strings of lights together. Make sure to read the labels on your lights and other electrical decorations to ensure that you are using the acceptable wattage levels.

Hanging the Lights

Once you have your decorations and equipment, you are ready to decorate! While October and November may seem to be too early to hang your lights, it is much safer to do so. During these months, the weather is warm and the ground is less slippery than in December so it is easier and safer to decorate your home. Plus getting it done early can also lessen your stress as the holiday season approaches. Your lights can simply hang on your house until the holiday season begins and you can conveniently turn them on when you feel the time is right. Before hanging your lights, make sure that you are using a safe and sturdy ladder that is the correct height. Your ladder should extend at least three feet past the edge of the roof. When hanging up electrical decorations and lights, use a wood or fiberglass ladder as metal ladders conduct electricity. Make sure that you keep yourself and your decorations at least 10 feet away from power lines. When hanging up your decorations, secure them to your home or trees with clips, hooks or cable ties to protect them from wind damage.

Accent Your Lights

After setting up the lights on your house, you can accent them with additional decorations. Inflatable decorations are an easy way to bring holiday cheer to your home as they are simple to set up and take down. There are many inflatable decorations of your favorite characters that young and old alike will enjoy. When installing your inflatable decorations, make sure to follow the manufacturer's instructions for properly securing them, or they could become airborne in windy weather. Anchor stakes are a great option for keeping your decorations securely in your yard. You should also shut off the fan blowers for your decoration when it is windy, when you leave the house or at bedtime.

Finishing Touches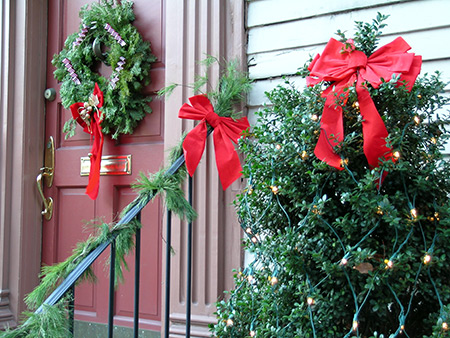 After setting up the lights on your home's exterior, it is time for the finishing touches. The walkway to your home can be lit up and decorated to help direct friends and family to the holiday celebrations. You can evoke childhood memories of gingerbread houses by lining your pathway with decorative lights or stakes alongside patios, walkways or driveways. Decorating your fence or porch railings with lights and garlands can also add a nice decorative look to your home. A wreath on the door and windows of your home provides a simple look of holiday cheer.

Window boxes that were filled with beautiful flowers and plants in warmer weather can look barren and gloomy in the winter months. Yet, window boxes provide an excellent area to decorate for winter and the holidays. You can fill a window box with lights and evergreen boughs to provide a cheery and festive focal point for your home. You can personalize the look of your window box by adding birdhouses, pinecones, signs and decor, ribbons and more!

After you have your lights and electrical decorations set up, make sure that all of the extension cords and light strings are clear of snow and standing water. If you go to bed or leave your home, make sure that you turn off your lights, in case they short out and start a fire. If you don't want to worry about having to turn your lights on and off, you can always plug them into an outdoor timer and set times to have them turn on and off.
When decorating outdoors, don't be afraid to get creative with your decorations. Ordinary items, such as canning jars can provide many different decorating options. You can fill a jar with ornaments, bows, decorative fruit or other items and embellish the lid with ribbons, twine or string for a quaint decoration that can be placed next to your door or in your window box. Outdoor decorative lanterns can also provide a beautiful and traditional look for your home and are also very versatile. Lanterns look beautiful hung in trees or porches, and a group of lanterns in different sizes and styles look great set on an outdoor table or doorstep.
After you have finished decorating it's time to show off all of your hard work to the neighborhood! By following these tips, you can have a safe and beautifully decorated home this Christmas.