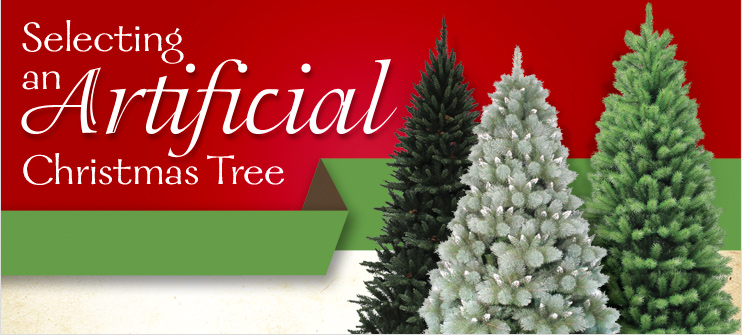 Artificial Christmas trees can bring holiday cheer into your home year after year. However, with so many styles and color options available, it can be difficult to decide which tree will work best for your space. Find an artificial tree that will suit your Christmas home décor with these basic buying tips.


Why Buy an Artificial Tree?
Artificial trees are reuseable.
81% of Americans keep their artificial trees for more than 5 years.
With proper care and storage, your artificial tree can last up to 20 years.
Artificial trees are easy to store.
An artificial tree can easily be broken down and stored in a sealed box or bag in your attic or basement until next year.
You can even leave your tree assembled and stow it away in an upright artificial tree
storage bag.
Shop All Tree Storage >
Artificial trees are safe and clean.
Live trees have a higher risk of fire than artificial ones.
Since artificial trees do not shed pine needles or seep sap, they remain beautiful and intact for the entire holiday season.
Browse All Artificial Trees >
Finding The Best Artificial Christmas Tree For You
Find the Right Size
When selecting an artificial Christmas tree, size is the first thing you should consider. Whether it is tucked in a corner of your living room or placed in your hallway, make sure you measure the height and width of your display space before you buy your tree. With these measurements, you will be able to find a tree that will fit the scale of your room.
Innovative Options: Prelit Artificial Christmas Trees
Once you've determined the size of your prospective tree, you'll have to start making the tough decision - Unlit or Prelit? Unlike fresh-cut trees, prelit artificial trees come preassembled with the lights already in place. Not only does this offer balanced illumination, but it also eliminates the stress of holiday storage and the annual mess of tangled Christmas lights. When selecting a prelit Christmas tree, choose colored lights that will coordinate best with your overall Christmas décor. For a more traditional and classic look, select a prelit Christmas tree with clear lights. This will allow your ornaments to take center stage. And, for a more festive and fun look, choose a prelit Christmas tree with multicolored lights.
Innovative Options: Flocked Artificial Christmas Trees
Another popular artificial Christmas tree option is a flocked tree. Blanketed in shiny and shimmering artificial snow, a flocked tree can transform any room into a quaint winter wonderland. These trees coordinate with almost every style and color of ornaments without overpowering the rest of your indoor holiday décor. Fully-flocked trees provide a beautiful backdrop with their snow-covered branches for bright bulbs, while partially-flocked trees retain hints of green shrubbery for a more natural look.