How do I use the Mastercraft Door Designer?
X
How do I use the Mastercraft Door Designer?
How do I use the Mastercraft Door Designer?
How do I use the Mastercraft Door Designer?
Interior Door Installation
X
Interior Door Installation
Interior Door Installation
Interior Door Installation
Jeld-Wen
Jeld-Wen
Jeld-Wen
Garage Door Installation
X
Garage Door Installation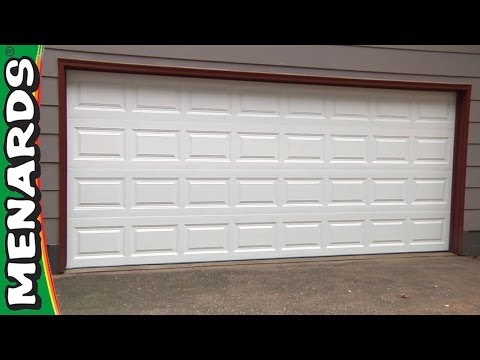 Garage Door Installation
Garage Door Installation
Installing A Storm Door
X
Installing A Storm Door
Installing A Storm Door
Installing A Storm Door
Interior Door
Installation
Jeld-Wen Pocket
Window Replacement
Save BIG on Doors, Windows and Millwork at Menards®
Exterior doors are available in fiberglass, steel or wood options.
Fiberglass doors
are a popular option for exterior doors as they offer strength, durability and easy maintenance because they will not crack, rot, rust or warp. Like fiberglass doors,
steel doors
also have energy-efficient foam core insulation and offer strength, durability and easy maintenance. In addition, steel doors are extremely resistant to shrinking, swelling and warping to ensure that they last for years to come. Also, their tough steel construction will enable them to withstand the elements of any climate. Most wood doors are constructed from premium grade hardwoods with a frame and panel construction to counteract possible effects of climate changes. If you are looking for bigger savings on exterior doors, check out our
special buy doors
. These doors are priced low and include attractive MASTERCRAFT® glass inserts. Menards® carries a great selection of
MASTERCRAFT® door glass
if you need a replacement or want to give your door a new look.
You can also update your
garage door
. We have all of the supplies, tools and accessories you need to install a stylish new garage door! Choose the perfect door from our selection of residential and commercial garage doors as well as roll-up doors for storage sheds and the like.
Windows
will brighten up any room in your home. We offer a large selection of vinyl, wood and basement windows. You can even design your own windows with our
acrylic and glass sheeting options
. We carry clear and tinted acrylic as well as clear glass. Our selection of
window and door screening supplies
will allow you to repair your window screens and screen doors instead of buying new ones. If you are looking for a way to bring more light into your home and enjoy the outdoors with a new
screened in porch system
. These systems allow contractors and do-it-yourselfers to permanently screen in new or existing porches and patios with easy-to-use base and cap screen framing.
Don't forget about sealing your new windows and exterior doors with
weather stripping
. Weather stripping seals openings in doors and windows to keep the elements outside and prevent air escaping from inside. This results in saving energy on heating and air conditioning.
Air curtains
produce a high-speed air barrier, dividing areas into two independent temperature zones; interior climate conditions are maintained, increasing comfort and saving energy. Vinyl strip doors work to minimize hot or cold weather from entering a building or area. These are great additions to commercial walk-in coolers and freezers.
Interior
prehung single
or
double doors
are a great choice for any new construction or remodel project. If your frame is damaged or warped it is a good idea to go with a prehung door. Already have an interior door frame?
Door slabs
come without the frame or hardware to install in existing frames. Our wide selection of finishes and styles will ensure that your new interior door complements your home.
For more information on exterior or interior doors visit our
Midwest Manufacturing page
. You can also customize your new door by using our
MASTERCRAFT® Door Designer
.
Interior and exterior moulding
will add decorative charm to any home. Our mouldings come in many different styles. We also carry base and crown block as well as rosettes and accents, ProPaks of base or casing and casing sets. If you are looking to enhance your home's exterior appearance, exterior moulding choices include vinyl, decorative, garage door frames and aluminum entry door frames. When choosing new
staircase systems and parts
, consider whether you would prefer a
post-to-post system
, an
over-the post system
or a
spiral staircase system
. In post-to-post systems, the handrail runs between the newel posts; for over-the-post systems the handrail runs over the newel posts. Spiral staircases save on space and are available in a variety of styles and finishes to match your home's design.
Patio covers and awnings
extend out from windows and doors to provide protection from sun, rain or wind.
Fabric carports and shelters
are easy to set up and come in a variety of styles including canopy, shelter and garage options as well as screened in shelters, enclosure kits and covers. Shelter widths range from 8 feet to 30 feet. Lengths range from 8 feet to 44 feet. We also have a variety of
attached carports
that can be added to your home or garage.
Check out our selection of
mobile and manufactured home parts
. We offer the exterior products you'll need to update your home's siding, skirting and doors. Remodel your bathroom with our bathing options. These include tubs and showers that are designed to fit smaller spaces. Our faucets and sinks make it possible to update your kitchen while our fixture repair, water heaters, floor registers, pipes and fitting choices make it easy to find the products you need to repair the plumbing and duct work in your home.